Need Massive Traffic? Go Visual!
Need Massive Traffic? Who Doesn't?
People post content on social media to try and attract massive traffic to their site. Well one of thsoe social media is a site called Slideshare.
What I learned from Kevin Ho at Wishpond is that Slideshare has 70 million active users and is great for B2B traffic.  Well I have some B2B projects that I'd like to move forward at my business site TopMarkMarketing.com so why not consider using Wishpond.
You can find the entire article here
Slideshare is a very visually rich environment as what people are submitting is the slides they use for power point presentations and video creation.  however as it is not a presentation or a video but the slides themselves that you are submitting you have to do a little more to make it successful as the guys at Wishpond found.
They'd been submitting slide shares regularly with some views but nothing to get excited about so they analyzed what successful slideshares were doing and boiled it down to 7 critical elements.
6 Elements of a Successful Slideshare
---
Since the Slideshares we produced in the past hadn't gotten the results we wanted, I decided to throw away the book and start from scratch to see what would work.
And based on my research of successfully featured Slideshares, I noticed that they all had 7 things in common:
They had Great headline
They had an interesting and visually appealing first slide
Information was always put into context in the introduction (often times in the form of a story or statistics laying the groundwork for why the following slides were relevant)
They only make 1- 2 points per slide
They're color and image rich
They're focused on a single topic
They had a complete description and used the maximum possible tags
They took on those points seriously and produced some very different slides.
Old slide

 Their new slides
They began by creating a good quality, visually engaging cover photo.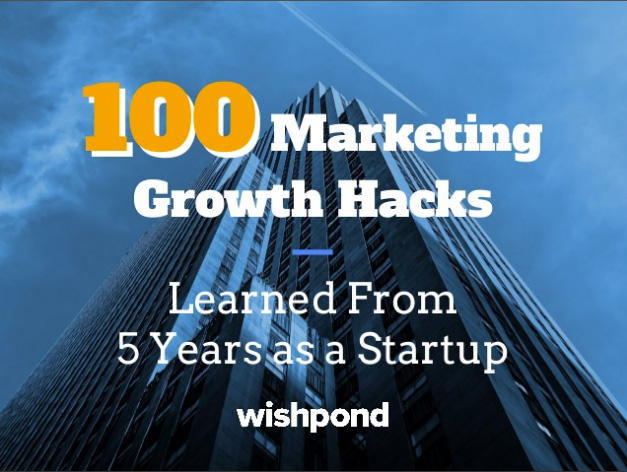 Then, rather than jumping straight into the 100 growth hacks (which I might have done before), I added some introductory slides to add some context and story.
This way I was able to set the tone before getting into the meat of the Slideshare.

I also focused on simplifying the message in order to increase readability and flow. This was hard to do at first (since my natural tendency was to group topics together coming from the blog world). In this case, this meant splitting sentences into multiple slides where I'd previously used one.
---
Uploading and Outreach
---
There were two main components of uploading that impact the chances of being featured on the front page of Slideshare.
The first is to include a complete description of the Slideshare, together with the maximum number of tags which that Slideshare is relevant for.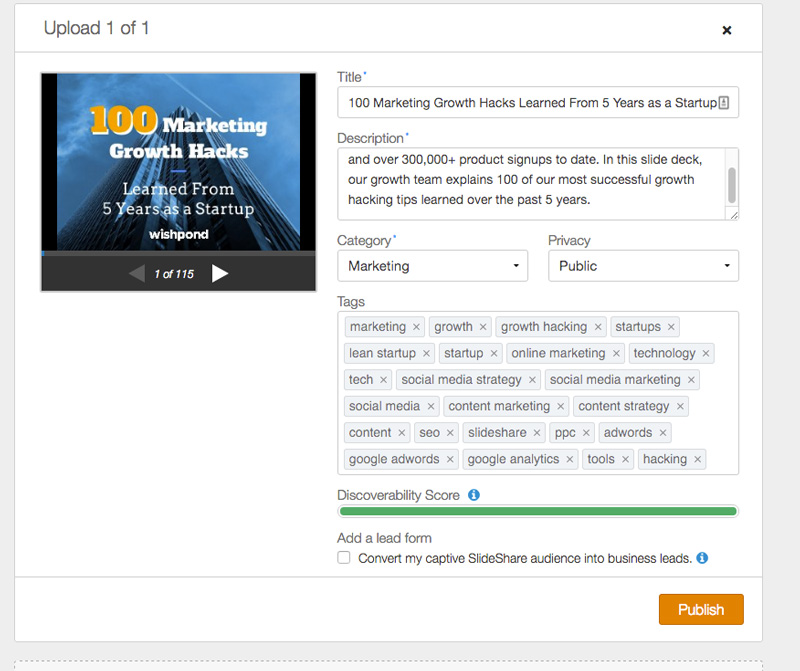 So with very big changes and all this new found knowledge the day after they submitted their new slideshare they found themselves featured on page 1 of Slideshare
What did it all mean in terms of benefits?
Though this Slideshare has slowed down in the past few days, it's driven close to 90,000 views and, even better, over two-thirds of that traffic is coming from outside our blog.
It's a HUGE improvement from our previous Slideshares.
This particular Slideshare was also featured for almost a week on the front page!
90,000 views in 7-10 days I'd say that was pretty frigging amazing
So If you'd like to review the entire article Just go here 
Would You Like Massive Traffic…  Go Visual!
I love visual content and if I can drive those kind of views with visual content well I might just have to try this on. I'd sure like some Massive Traffic to my blogs 
Let me know in the comments below what you thought about this. Would you consider trying slideshare?
About the Author
Mary has been blogging and helping people online for well over 4 years. Her passion is empowering others to be all they can be, so they can make the difference they were intended to make. Mary is also very concerned about our world which is awash in debt, which will ultimately overwhelm and destroy our way of being. If you'd like to join me in my quest to change this situation one gold saver at a time check out http://gettingpaidingold.com